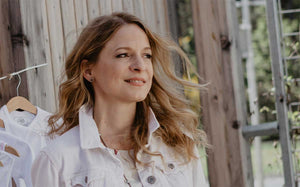 luxurious & health-oriented
The brand for smart fashion
Sticklett is a luxurious and health-oriented brand for smart children's fashion based in Klagenfurt on the beautiful Wörthersee. The entire collections are made in Europe. The highest level of manufacturing quality and pattern construction art is used for each individual collection. Our smart heroes contain high-end technology and engineering skills, and no expense is spared. Each of our heroes transforms the garment into a luxury item that ensures good health and care for our little ones.
Sticklett is not a trend follower, but a pioneer in smart clothing art.
Each collection with its corresponding hero is for us an opportunity to initiate a significant contribution to the preservation of health already in the baby and child age.
Our goal is not to cure disease, but to reduce the cause of disease.

DI Michaela Schicho

Founder & CEO
sticklett makes history
Known from
Sticklett presented her first children's fashion collection in 2017 at JOT Juniormode in Salzburg. The smart heroine Mary by sticklett caused a stir on the television show 2 Min 2 Mio in 2019. Shortly afterwards she won the Fashion Tech Award in Paris. She has been featured in WOMAN, Baby&Junior, NewMom, to name a few. In 2021 sticklett was named Born Global Champion. Today the brand is sold throughout Europe and is lived and loved by children in the most prestigious families.
The founder
Founder Michaela Schicho loved designing and sewing Barbie clothes and programming her own robots at the tender age of 11.
As a graduate of the higher education school for fashion and clothing technology in Villach, she worked as an internationally awarded fashion designer for several years before she returned to her second passion of technology and completed her studies in applied computer science at the Alpen-Adria University in Klagenfurt . Before she founded her own smart fashion brand, she worked for numerous well-known companies and worked as a research assistant at the university in cancer research for several years. This activity and her two beloved children laid the foundation for the company she founded.
Their goal was and is to create a brand that not only produces beautiful and unique clothing for children that is ethical and long-lasting, but also offers the luxury of making a significant contribution to healthy development. So that our children today become healthy and successful adults of tomorrow.
Because all desires become small compared to being healthy.
Future-oriented manufacturing
All collections are lovingly manufactured, some of them with elaborate handwork, in our partner tailors in the Alpe-Adria region. The research, development and production of our wearable technology takes place in the heart of Europe / Carinthia.
Our goal is to move away from the mass and cheaply produced fast fashion industry towards high quality, controlled and long-lasting slow fashion production, where work performance is valued and the future of our children is taken into account when it comes to environmental impact.
We only use raw materials from controlled and organic European cultivation and only use high-quality and certified materials for our products. We try to avoid unnecessary plastic packaging and use recyclable materials.
The interaction of fashion art with medical and technological know-how has established a new era of design-oriented and digitally networked fashion.