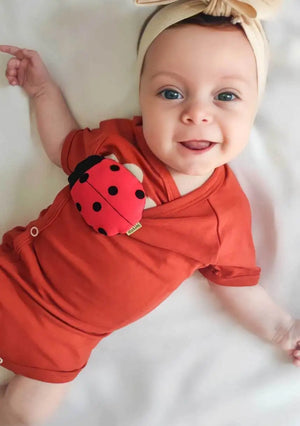 Put on the HERO:
calming feeling ACTIVATED.
Simple, safe and reliable!
Clothing with helpful heroes
The careful clothing style
Simply put on the clothes, attach the hero and enjoy safety and well-being
Experience from now on
More safety
Sleeping without worries again, thanks to the smart ladybird " MARY by sticklett " on our pajamas - for times of acute sleep deprivation.
Small, handy & child-friendly
Put on sticklett clothes, attach the ladybird and you're done!
No pressure points, no skin irritations, no pain
Easy to take with you - not tied to a specific sleeping area
Long service life - can be used for several years
Trust your intuition,
but check for your peace of mind!
Is my baby breathing?
MARY by sticklett constantly monitors your child's breathing movements and informs you immediately if irregularities occur or your child suddenly stops breathing.
How can I easily take my baby's temperature?
MARY by sticklett constantly monitors your child's body temperature behavior. If the increase is high, you will be informed immediately via the app.
Risk factor: belly position
MARY by sticklett detects when your child rolls over onto their belly while sleeping. You can be notified about this via the app.
smart baby monitor
Mary by sticklett reacts to movement behavior and recognizes when your child awakes, cries, etc. gets up silently and immediately sends you a signal to your smartphone.
Because your child is worth it
For the highest requirements
We use only high quality and non-toxic materials and test for color and form stability.
Reliability through optimal fit
The reliable connection to the body is achieved via compatible clothing from the MARY by sticklett COLLECTION.
Discover your favorite piece now
Let customers speak for us
Internationally awarded smart fashion innovation